First report of a linezolid-resistant MRSA (methicillin resistant Staphylococcus aureus) isolated from a dog with a severe bilateral otitis in Portugal
Palabras clave:
dog, linezolid, resistant Staphylococcus aureus (MRSA), Portugal.
Resumen
The widespread use of antimicrobials has lead to the emergence of resistant bacteria to one or more antibiotic, including new drugs like linezolid. This antimicrobial is the first of the oxazolidinone group and soon after its approval in 2000, linezolid-resistant MRSA and linezolid vancomycin-resistant enterococci have emerged. Several outbreaks of linezolid-resistant MRSA have been reported worldwide but, to our knowledge, this is the first report of a linezolid-resistant MRSA isolated from a dog in Portugal. The animal arrived at the Teaching Hospital of the Faculty of Veterinary Medicine, Technical University of Lisboa with a severe bilateral otitis that was refractory to antibiotic therapy. Bacteriology showed that the infection was caused by a multiresistant Staphylococcus aureus strain that also phenotipically expressed other virulence factors. Besides the challenge to practitioners, the isolation of this strain is of pub­lic health concern due to its antimicrobial resistant profile.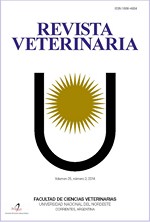 Descargas
Sección
Trabajos de Investigación
Licencia
Política de acceso abierto
Esta revista proporciona un acceso abierto inmediato a su contenido, basado en el principio de que ofrecer al público un acceso libre a las investigaciones ayuda a un mayor intercambio global de conocimiento. La publicación por parte de terceros será autorizada por Revista Veterinaria toda vez que se la reconozca debidamente y en forma explícita como lugar de publicación del original.
Esta obra está bajo una licencia de Creative Commons Reconocimiento-NoComercial 4.0 Internacional (CC BY-NC 4.0)