Susceptibilidad a antibióticos en cepas de Pseudomonas aeruginosa aisladas de canes con otitis externa
Palabras clave:
Perros, otitis externa, Pseudomonas aeruginosa, antibióticos
Resumen
El propósito de este estudio fue determinar la susceptibilidad a los antibióticos en cepas de P.
aeruginosa aisladas de canes con otitis externa en Callao, Perú. Veinte cepas fueron probadas
en su susceptibilidad a 11 antibióticos mediante el método de disco difusión. Los aminoglucósidos presentaron la mejor sensibilidad (94,4%). La multirresistencia se observó en un 70%. Los animales de raza definida fueron los más afectados (50%). Los aminoglucósidos y
seguidamente las fluoroquinolonas se mantienen como opciones de tratamiento.
Citas
Almeida MS et al. 2016. Isolamento microbiológico do canal auditivo de cães saudáveis e com otite externa na região metropolitana de Recife, Pernambuco. Pesquisa Vet Bras 36: 29-32.
Arais LR, Barbosa AV, Carvalho CA, Cerqueira AM. 2016. Antimicrobial resistance, integron carriage, and gyrA and gyrB mutations in Pseudomonas aeruginosa isolated from dogs with otitis externa and pyoderma in Brazil. Vet Dermatol 27: 113.
Bernal Y, Osorio K, Torres O. 2015. Pseudomonas aeruginosa: an emerging nosocomial trouble in veterinary. Rev MVZ Córdoba 20: 4937-4946.
Bugden DL. 2013. Identification and antibiotic susceptibility of bacterial isolates from dogs with otitis externa in Australia. Austr Vet J 91: 43-46.
Cardoso MJ et al. 2011. Dermatopatias em cães: revisão de 257 casos. Arch Vet Sci 16: 66-74.
Clinical and Laboratory Standards Institute - CLSI. 2013 Performance standards for antimicrobial disk and dilution susceptibility tests for bacteria isolated from animals. Public. Wayne P.A., Pennsylvania, 3rd ed., supplement VET01S.
de Oliveira VB et al. 2012. Etiologia, perfil de sensibilidade aos antimicrobianos e aspectos epidemiológicos na otite canina: estudo retrospectivo de 616 casos. Sem Ciênc Agr 33: 2367-2374.
Dégi J, Cristina RT, Stancu A. 2010. Otitis externa caused by bacteria of the genus Pseudomonas in dogs. Lucr Stiint Med Vet 43: 143-147.
Dégi J et al. 2013. Frequency of isolation and antibiotic resistance of staphylococcal flora from external otitis of dogs. Vet Rec 173: 42.
Doublet B, Bousquet MA, Madec JY. 2012. Le concept «one health» en antibio résistance et les flux de genes. Innov Agron 24: 79-90.
Hariharan H, Coles M, Poole D, Lund L, Page R. 2006. Update on antimicrobial susceptibilities of bacterial isolates from canine and feline otitis externa. Canad Vet J 47: 253-255.
Hariharan H, McPhee L, Heaney S, Bryenton J. 1995. Antimicrobial drug susceptibility of clinical isolates of Pseudomonas aeruginosa. Can Vet J 36: 166-168.
Ishii JB, Freitas JC, Arias MV. 2011. Resistência de bactérias isoladas de cães e gatos no Hospital Veterinário da Universidade Estadual de Londrina (2008-2009). Pesq Vet Bras 31: 533-537.
Korbelik J, Singh A, Rousseau J, Weese JS. 2018. Analysis of the otic mycobiota in dogs with otitis externa compared to healthy individuals. Vet Derm 29: 417.
Lin D et al. 2012. Characterization of antimicrobial resistance of Pseudomonas aeruginosa isolated from canine infections. J Appl Microbiol 113: 16-23.
Mekić S, Matanović K, Šeol B. 2011. Antimicrobial susceptibility
of Pseudomonas aeruginosa isolates from dogs with otitis externa. Vet Rec 169: 125.
Morita Y, Tomida J, Kawamura Y. 2012. Primary mechanisms mediating aminoglycoside resistance in the multidrug-resistant Pseudomonas aeruginosa clinical isolate PA7. Microbiol 158: 1071-1083.
Paterson S. 2016. Discovering the causes of otitis externa. In Pract 38: 7-11.
Pedersen K et al. 2007. Occurrence of antimicrobial resistance in bacteria from diagnostic samples from dogs. J Antimicr Chemother 60: 775-781.
Penna B et al. 2011. In vitro antimicrobial resistance of Pseudomonas aeruginosa isolated from canine otitis externa in Rio de Janeiro, Brazil. Braz J Microbiol 42: 1434-1436.
Petrov V et al. 2013. Otitis externa in dogs: microbiology and antimicrobial susceptibility. Rev Méd Vétér 164: 18-22.
Poole K. 2005. Aminoglycoside resistance in P. aeruginosa. Antimicrob Agents and Chemoth 49: 479-487.
Ragheb MN et al. 2019. Inhibiting the evolution of antibiotic resistance. Molec Cell 73: 157-175.
Robaj A, Sylejmani D, Hamidi A. 2015. Investigation and antimicrobial susceptibility of microbial agents of external otitis in dogs. J Anim Vet Adv 14: 277-280.
Schwarz S et al. 2010. Assessing the antimicrobial susceptibility
of bacteria obtained from animals. J Antimicrob Chemother 65: 601-604.
Sfaciotte RA et al. 2015. Antimicrobial resistance in bacterial pathogens of canine otitis. Am J Anim & Vet Sci 10: 162-169.
Shaw S. 2016. Pathogens in otitis externa: diagnostic techniques to identify secondary causes of ear disease. In Pract 38: 12-16.
Soler M, Tello M, Moreso JM, Riera L. 2000. Otitis externa en perros y gatos: aislamiento microbiológico y antibioterapia. Clín Vet Peq Anim 20: 72-75.
Türkyilmaz S. 2008. Antibiotic susceptibility patterns of Pseudomonas aeruginosa strains isolated from dogs with otitis externa. Turk J Vet & Anim Sci 32: 37-42.
von Silva MS, Wolf G, Mueller RS. 2019. Determination of minimum inhibitory concentrations for silver sulfadiazine and other topical antimicrobial agents against strains of Pseudomonas aeruginosa isolated from canine otitis externa. Vet Dermatol 30: 145-e42.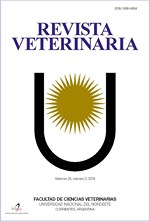 Descargas
Sección
Trabajos de Investigación
Licencia
Política de acceso abierto
Esta revista proporciona un acceso abierto inmediato a su contenido, basado en el principio de que ofrecer al público un acceso libre a las investigaciones ayuda a un mayor intercambio global de conocimiento. La publicación por parte de terceros será autorizada por Revista Veterinaria toda vez que se la reconozca debidamente y en forma explícita como lugar de publicación del original.
Esta obra está bajo una licencia de Creative Commons Reconocimiento-NoComercial 4.0 Internacional (CC BY-NC 4.0)