Niveles plasmáticos de glucosa y triglicéridos en ratones con hígado graso inducido por DL-etionina
Palabras clave:
Hígado graso, DL-etionina, glucosa, triglicéridos, ratones IRMN
Resumen
El objetivo del presente estudio fue determinar las modificaciones plasmáticas de la glucosa (Gluc) y de los triglicéridos (TG) en el hígado graso no alcohólico (HGNA) inducido por DL-etionina en ratones IRMN (imagen por resonancia magnética nuclear) machos y hembras. Se distribuyeron en dos grupos de 10 animales de cada sexo: uno control y otro tratado con etionina (7,5 mg/20 g peso corporal). Después de un ayuno de 48 horas, por venopunción coccígea se obtuvo una muestra de sangre con anticoagulante y en los plasmas se cuantificaron las concentraciones de Gluc y de TG mediante kit comercial. La eutanasia se practicó bajo ligera anestesia con éter. Se disecó el hígado, se evaluó su aspecto macroscópico y se obtuvo el homogeneizado hepático, en el que se determinó la concentración de TG. Una pequeña porción de hígado fijado en formol tamponado al 10% fue utilizado para su estudio histopatológico. El análisis estadístico se realizó mediante el programa SPSS versión 17.0 para Windows. Tanto en los machos como en las hembras, la administración de DL-etionina indujo metamorfosis grasa hepática con vacuolas lipídicas en el citoplasma de los hepatocitos, así como un aumento de la concentración de TG en el tejido hepático (p<0,001). En las hembras se observó que el HG provoca un descenso de los niveles de TG plasmáticos (p<0,01), resultado que está de acuerdo con la aumentada glicemia que presentaron (p<0,05). Tales efectos se deberían a la resistencia a la insulina, anormalidad clave en el HGNA. En los machos no se modificó el nivel de TG circulantes, lo que respondería a la glicemia normal que mostraron. Como conclusión, la inducción de HG por acción de la DL-etionina afectó los parámetros plasmáticos estudiados en forma diferente en machos y hembras, quizás debido a variables adaptativas ante el HG, propias de cada sexo.



Citas
Abdel NM. 2006. Diphenyl dimethyl bicarboxylate as an effective treatment for chemical induced fatty liver in rats. Afric JBiomedRes 9: 77-81.
Adams LA, Angulo P. 2006. Treatment of non-alcoholic fatty liver disease. PostgradMed J 82: 315-322.
Bobe G, Young JW, Beitz, DC. 2004. Invited review: pa- thology, etiology, prevention, and treatment of fatty liver in dairy cows. JDairy Sci 87: 3105-3124.
Botet JP, Pedragosa A. 2011. Hígado graso no alcohólico: conexiones entre los triglicéridos plasmáticos y su depósito hepático. Clin Invest Arterioscler 23: 88-89.
Bradford MA. 1976. A rapid and sensitive method for the quantities of microgram of protein utilizing the principle of protein-dye binding. AnalBiochem 72: 248-254.
Contreras PA, Phil M. 1998. Síndrome de movilización grasa en vacas lecheras al inicio de la lactancia y sus efectos en salud y producción de los rebaños. Arch Med Vet 30: 17-27.
Dekoster J et al. 2015. Insulin response of the glucose and fatty acid metabolism in dry dairy cows across a range of body condition scores. J Dairy Sci 98: 4580-4592.
Fong DG, Nehra V, Lindor KD, Buchman AL. 2000. Metabolic and nutritional considerations in nonalcoholic fatty liver. Hepatology 32: 3-10.
Ganji SH, Kukes GD, Lambrecht N, Kashyap M, Ka- manna VS. 2014. Therapeutic role of niacin in the pre- vention and regression of hepatic steatosis in rat model of nonalcoholic fatty liver disease. Am J Physiol Gastroint Liver Physiol 306: 320-327.
Lin X, Yue P, Chen Z, Schonfeld G. 2005. Hepatic tri- glyceride contents are genetically determined in mice: re- sults of a strain survey. Am J Physiol Gastrointest Liver Physiol 288: G1179-G1189.
López OA, Carmona CA, Moussatché H. 1993. On the mechanism of protective action of cold acclimatization against carbon tetrachloride and ethionine-induced fatty liver. Mem Inst Oswaldo Cruz 88: 313-316.
Motoo Y, Seki T, Tsutani K. 2011. Traditional japanese medicine kampo: its history and current status. Chin JIn- tegr Med 17: 85-87.
Mayes PA. 2000. Lipids transport and storage. In: Harp- er's Biochemistry (Murray RK, Granner DK, Mayes PARodwell VW Ed), 25a ed., Appleton & Lange, Stamford, USA, p. 277-278.
Murray RK, Granner DK, Mayes PA, Rodwell VW.2000. Harper's Biochemistry, 25a ed., Apleton & Lange, Stamford, EE.UU, p. 1-5.
Patton JG, Dinh DM, Mao SJ. 1982. Phospholipid en- hances triglyceride quantitation using an enzyme kit methods. Clin Chim Acta 118: 125-128.
Postic C, Girard J. 2008. Contribution of de novo fatty acid synthesis to hepatic steatosis and insulin resistance: lessons from genetically engineered mice. J Clin Invest 118: 829-838.
Rovers M. 2015. La cetosis en vacas lecheras y el rol de la colina. Entorno Ganadero 64, BM Editores, Argentina, p. 1-4.
Saleh J, Sniderman AD, Cianflone K. 1999. Regulation of plasma fatty acid metabolism. Clin Chim Acta 286: 163180.
Sanyal AJ. 2002. AGA technical review on nonalcoholic fatty liver disease. Gastroenterology 123: 1705-1725.
Takahashi Y, Soejima Y, Fukusato T. 2012. Animals models of nonalcoholic fatty liver disease / nonalcoholic steato hepatitis. World J Gastroenterol 18: 2300-2308.
Taylor VJ, Beever DE, Wathes DC. 2004. Physiological adaptations to milk production that affect the fertility of high yielding dairy cows. BSAP Occasional Publication 29: 37-71.
Tessitore L, Sesca E, Greco M, Pani P, Dianzani M.
Sexually differentiated response to choline in cho- line deficiency and ethionine intoxication. Int JPathol 76: 125-129.
Trinder P. 1969. Determination of glucose in blood using glucose oxidase. Ann Clin Biochem 6: 24-27.
Weber C et al. 2013. Variation in fat mobilization during early lactation differently affects feed intake, body condi- tion, and lipid and glucose metabolism in high yielding dairy cows. JDairy Sci 96: 165-180.
Weber C et al. 2016. Insulin-dependent glucose metabo- lism in dairy cows with variable fat mobilization around calving. JDairy Sci 99: 1-15.
Yamaguchi K et al. 2007. Inhibiting triglyceride synthe- sis improves hepatic steatosis but exacerbates liver dam- age and fibrosis in obese mice with nonalcoholic steato- hepatitis. Hepatology 45: 1343-1346.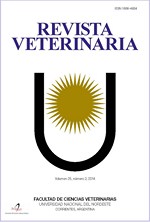 Descargas
Sección
Trabajos de Investigación
Licencia
Política de acceso abierto
Esta revista proporciona un acceso abierto inmediato a su contenido, basado en el principio de que ofrecer al público un acceso libre a las investigaciones ayuda a un mayor intercambio global de conocimiento. La publicación por parte de terceros será autorizada por Revista Veterinaria toda vez que se la reconozca debidamente y en forma explícita como lugar de publicación del original.
Esta obra está bajo una licencia de Creative Commons Reconocimiento-NoComercial 4.0 Internacional (CC BY-NC 4.0)