Approach to some hematological variables of healthy captive "yaguareté" (Panthera onca) from Northeast Argentina
Palabras clave:
Panthera onca, hematology, biochemical serum values.
Resumen
Samples of three healthy Panthera onca from a Northeast Argentina reserve were analyzed through spectrophotometry, electrophoresis, densitometry, and microscopy in order to obtain hematological and biochemical reference values. Means and standard deviation for hematocrit, hemoglobin, red and white blood cells, leukocyte differential count, total protein, albumin, globulins, glucose, total cholesterol, lipoproteins, calcium, inorganic phosphorus, urea, creatinine and some enzymatic activities, were obtained. Usefulness of studied parameters to evaluate sanitary and nutritional state on captive P. onca, is emphasized.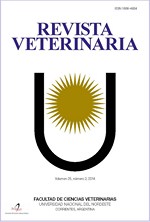 Descargas
Sección
Comunicaciones Breves
Licencia
Política de acceso abierto
Esta revista proporciona un acceso abierto inmediato a su contenido, basado en el principio de que ofrecer al público un acceso libre a las investigaciones ayuda a un mayor intercambio global de conocimiento. La publicación por parte de terceros será autorizada por Revista Veterinaria toda vez que se la reconozca debidamente y en forma explícita como lugar de publicación del original.
Esta obra está bajo una licencia de Creative Commons Reconocimiento-NoComercial 4.0 Internacional (CC BY-NC 4.0)