Relación entre carga parasitaria y linfocitos Th1 en biopsias de piel de perros con leishmaniosis
Palabras clave:
Perros, leishmaniosis, linfocitos Th1, inmunohistoquímica, biopsia de piel, carga parasitaria.
Resumen
La leishmaniosis visceral (LV) es una enfermedad sistémica crónica severa causada por Leishmania donovani o L. infantum. Varios estudios han demostrado que la susceptibilidad a LV está relacionada a altos títulos de anticuerpos circulantes y a una depresión de la inmunidad mediada por linfocitos Th1, principalmente con disminución de la producción de interferon (IFN-γ) e interleukina (IL-12). Similar a la humana, la LV canina está caracterizada por activación policlonal de células B e inmunosupresión específica. El objetivo del trabajo fue establecer la relación entre la carga parasitaria y la respuesta inmune en perros con LV. Se seleccionaron pacientes caninos con diagnóstico serológico reactivo a LV y se les extrajeron muestras para examen parasitológico directo y biopsias de piel del pabellón auricular para efectuar la técnica inmunohistoquímica con el fin de detectar linfocitos Th1 en relación con la carga parasitaria. En muestras de animales sin síntomas que registraban una elevada carga parasitaria, la cantidad de Th1 no superaba las 4 células por campo de mayor aumento, mientras que, en las muestras donde prevalecían cargas moderadas y bajas de parásitos, la cantidad de Th1 superaban las 8 células por campo de mayor aumento, pudiendo llegar hasta 10. De las muestras provenientes de animales con síntomas se observó que en aquéllas con moderada o elevada carga de parásitos, la cantidad de linfocitos Th1 no superaba las 5 células, mientras que las muestras con baja carga parasitaria superaban las 8 células por campo de mayor aumento. Se concluye que la presencia o ausencia de sintomatología en caninos con LV no depende de la carga parasitaria encontrada en las biopsias de piel. Por otra parte, se observó que la alta carga parasitaria se relaciona con inmunosupresión mediada por linfocitos Th1, mientras que en los animales con alta respuesta inmunológica, la carga parasitaria fue baja.
Citas
Abbas AK, Murphy KM, Sher A. 1996. Functional diversity of helper T lymphocytes. Nature 383: 787-793.
Akuffo H, Maasho K, Britton S. 1996. Immunity to human leishmaniasis. Parasitology of the 21st Century, CAB
International 23-33.
Alexander J, Bryson K. 2005. T helper (h)1/Th2 and Leishmania: paradox rather than paradigm. Immunol Lett 99: 17-23.
Antoine JC, Prina E, Courret N, Lang T. 2004. Leishmania spp.: on the interactions they establish with antigenpresenting cells of their mammalian hosts. Adv Parasitol 58: 1-68.
Bhattacharya P, Ali N. 2013. Involvement and interactions of different immune cells and their cytokines in human visceral leishmaniasis. Rev Soc Bras Med Trop 46: 128-134.
Banchereau J et al. 2000. Immunobiology of dendritic cells. Ann Rev Immunol 18: 767-811.
Bogdan C, Rollinghoff M, Diefenbach A. 2000. The role of nitric oxide in innate immunity. Immunol Rev 173: 17-26.
Brandonisio O et al. 2002. Macrophage chemotactic protein-l macrophage inflammatory protein-l alpha induce nitric oxide release and enhance parasite killing in Leishmania infantum infected human macrophages. Clin Exp Med 2: 125-129.
Carvalho EM, Bacellar O, Barral A, Badaro R, Johnson WD. 1989. Antigen-specific immuno suppression in visceral leishmaniasis is cell mediated. J Clin Invest 83: 860-864.
Costa DL et al. 2013. Serum cytokines associated with severity
and complications of kala-azar. Pathog Glob Health 107: 78-87.
Dujardin JC et al. 2008. Spread of vector-borne diseases and neglect of leishmaniasis, Europe Emerg Infect Dis 14:1013-1018.
Lima GM et al. 1998. The role of polymorphonuclear leukocytes in the resistance to cutaneous leishmaniasis. Immunol Lett 64: 145-151.
Lockesley RM, Louis JA. 1992. Immunology of leishmaniasis. Curr Opin Immunol 4: 413-418.
Manna PP, Chakrabarti G, Bandyopadhyay S. 2010. Innate immune defense in visceral leishmaniasis: cytokine mediated protective role by allogeneic effector cell. Vaccine 28: 803-810.
Murray HW. 1997. Endogenous interleukin-12 regulates acquired resistance in experimental visceral leishmaniasis. J Infect Dis 175: 1477-1479.
Murray HW, Berman JD, Davies CR, Saravia NG. 2005. Advances in leishmaniasis. Lancet 366: 1561-1577.
Nylen S, Sacks D. 2007. Interleukin-10 and the pathogenesis of human visceral leishmaniasis. Trends Immunol 28: 378-384.
Peruhype MV et al. 2005. Immune response in human visceral leishmaniasis: analysis of the correlation between innate immunity cytokine profile and disease outcome. Scand J Immunol 62: 487-495.
Reis AB et al. 2006. Parasite density and impaired biochemical / hematological status are associated with severe clinical aspects of canine visceral leishmaniasis. Res Vet Sci 81: 68-75.
Reis AB et al. 2009. Systemic and compartmentalized immune response in canine visceral leishmaniasis. Vet Immunol Immunopathol 128: 87-95.
Santos GM et al. 2002. Cytokine expression during the outcome of canine experimental infection by Leishmania infantum. Vet Immunol Immunopathol 88: 21-30.
Vangisbergen KP, Geijtenbeek TB, Vankooyk Y. 2005. Close encounters of neutrophils and DCs. Trends Immunol 26: 626-631.
Vangriensven J, Diro E. 2012 Visceral leishmaniasis. 2012. Infect Dis Clin North Am 26: 309-322.
Vonstebut E, Udey MC. 2004. Requirements for Th1-dependent immunity against infection with Leishmania major. Microbes Infect 6: 1102-1109.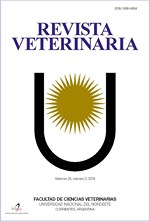 Descargas
Sección
Trabajos de Investigación
Licencia
Política de acceso abierto
Esta revista proporciona un acceso abierto inmediato a su contenido, basado en el principio de que ofrecer al público un acceso libre a las investigaciones ayuda a un mayor intercambio global de conocimiento. La publicación por parte de terceros será autorizada por Revista Veterinaria toda vez que se la reconozca debidamente y en forma explícita como lugar de publicación del original.
Esta obra está bajo una licencia de Creative Commons Reconocimiento-NoComercial 4.0 Internacional (CC BY-NC 4.0)