The echocardiography diagnosis of cor pulmonale in a horse
Palabras clave:
Horse, echocardiography, cor pulmonale.
Resumen
The authors describe the two-dimensional and Doppler signs that characterize the pulmonary hypertension caused by chronic obstructive pulmonary disease (COPD) in a horse.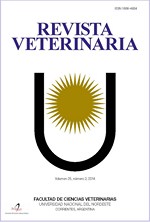 Descargas
Sección
Comunicaciones Breves
Licencia
Política de acceso abierto
Esta revista proporciona un acceso abierto inmediato a su contenido, basado en el principio de que ofrecer al público un acceso libre a las investigaciones ayuda a un mayor intercambio global de conocimiento. La publicación por parte de terceros será autorizada por Revista Veterinaria toda vez que se la reconozca debidamente y en forma explícita como lugar de publicación del original.
Esta obra está bajo una licencia de Creative Commons Reconocimiento-NoComercial 4.0 Internacional (CC BY-NC 4.0)